Introduction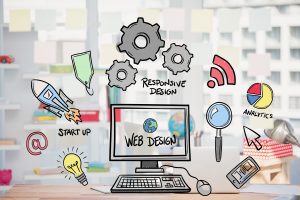 Working Out A Plan for Web Design Service
Mobile Responsive Website
Adopting the mobile first web design and development methodology.
Be visible on Search Engines with Rich Snippets and having a faster load time than any of your competitors' websites.
Makes your website safer to use by using built-in firewall, protection and automatic scans on your website.
Content Management System
The CMS for your website will be by WordPress And Divi Page Builder.
The Process of web design service
Every web design project starts with the planning stage. The next is the process of it.
You need a reasonable timeline to begin and end it,
A customer journey plan,
A list of keywords to propose, and,
A content of structure suggestions.
Having an in-depth research of your industry the products you use, we have to work out with a design style with the data that we collected to suit your business style.
Design & Development
Passing of the forms we created using all the innovations and  creativity to brands. Strong visual messages, clear navigation and imagery help our client's brands to meet their goals and give audiences what they want.
Good web design and strong website development make the complex design appear more simple.
Optimisation web design service
What is on-site optimisation?  It is optimising your website by analyzing the overall development and content to ensure that all your images, content and codings are readable by the search engines.
We optimise your website by:
Creating alt-text on all images,
Creating meta titles and description within your web pages,
Optimising image size to achieve optimised loading time and,
Using of proper codes/ tags to allow the search engine to look for content emphasis.
Animating
Your website should be your best presentation tool. We create animation using our animation libraries. Before your website is launch, we add a little touch of animation to your website to capture the attention of web users.
More Information
Want to know more, click here to know more about Web Design Service and click here to find out more about us.